If you are a citizen or traveling around Kuala Lumpur, Malaysia, one of the most memorable places that you can go is the Suria KLCC, where the Petronas Twin Towers is located. If you are a tourist, I recommend the park outside for a clean nature experience. If you are enthusiastic about art, I recommend the Petronas Gallery where you could speculate about the reason behind the artist's creations. If you are a business person, you might obtain some news about an industry of your liking at the Kuala Lumpur Convention Centre.
Website for Suria KLCC: https://www.suriaklcc.com.my/
And if you are a person who wants to learn Japanese or an actual Japanese, or wanted to collect and read physical copies of the manga (packaged with plastic and written in Japanese) that you might be interested in the Japanese section, placed behind the graphic novel section, where you will enter a small island consisted of Japanese literature, artbook and obviously authentic Japanese manga.
Website for Kinokuniya: https://www.kinokuniya.com/
However, I'm a very frugal person and when I see the price tag of the mangas in Kinokuniya for the first time, I was like nope, just window shopping and looking at the physical covers in the future. The reason for my reluctance of being physical copies is that:
For my budget (RM 100, if I'm generous), buying an official English translation of the manga is very expensive (ranged about RM50, which is very dear for me)
While there is a huge section of Japanese manga placed in a space of its own (with exclusive shelves provided for the Weekly Shonen Series and shoujo mangas from different publishers), the price being reasonable (ranged about RM 20) and having even quickly axed manga in the bunch, there's just a small problem with me (and the general Malaysian public): My Japanese is limited and I felt that money is better spent on purchasing the artbooks
There is also a Chinese section, where the prices are similar to their Japanese counterpart and there is a significant Chinese population, at that point I am like: "why should I bother purchasing manga that after I've read it, I have to find some space to keep my purchases and I don't want my room to be as messy as my sister".
For the potential Malay purchases, I just simply read them at the bookstore in one go. Malaysian authors and publishers, I am sorry for ruining your purchase and being so stingy that as an adult I don't even want to purchase a volume of Keith's Lawak Campus or Zint's Hope.
Most of all, I can simply read the manga online (both English and Chinese), so basically I am not included in their target demographic.
(BTW, in the Malaysian webpage, the biggest selling manga for April is the 5th Volume for Yugioh arc V and one of the Top 100 selling manga in Kinokuniya for this year April include 2 volumes of the canceled Cross Account)
P.S: For Malaysians, you can spend your free weekends warming your tired heart by reading the Malay translations of Bongo Stray Dogs, Yotsuba, Hyouka and the Silent Voice for a ridiculously affordable price of RM10.
After all of these self-promotive introductions that only appeals to my vanity, I'll just move on to the main topic, as since the Western & Japanese have very different methods of obtaining the imported manga in the first place, aside from the A-List, their scanlated mangas are quite different.
One of the most striking examples for Chinese scans would be Shinobu Seguchi's Shuujin Riku (think of Prison Break with the MC being an underaged boy), Non's Delivery Cinderella (student by day, callgirl by night) and Toshio Sako's Usogui (genius gambler who gambles while competing under the absolutely neutral judges). The English translations are brief (while Usogai fared better, it pales compared to needing about 300 more chapters to fully complete the entire translation), while the Chinese translations completed both of their work (with Shuujin Riku and Delivery Cinderella being rather popular with the Chinese, even if their plot development becomes weaker as time goes on).
Without further ado, these are (a small part of) my selection of the manga that I've read using the Chinese website, which I usually use dm5 for the mangas that are not or rarely scanlated in English.
Beware, spoilers abound since I might explain more about the plot.
Ao Ashi
Author: Naohiko Ueno. Artist: Yuugo Kobayashi
Serialized: Big Comic Spirits, Shogakukan on 2015
One day, Ashito Aoi a third year middle school student from Ehime prefecture encounters a J Youth League team coach Fukuda Tatsuya, even though he's still rough around the edges, Ashito has such an amazing potential that he gets invited by coach Fukuda and makes the team selection?! The story of a boy that will change the history of soccer in Japan starts now—!!
Despite not being a fan of real-life soccer,  I ended following this since the scanlator decided to fully translate this from the start of around 2018 (thus, in terms of plot knowledge I am more informed than Days and Giant Killing, especially with the former updates being slow and not having Chinese translations).  The manga becomes the mangaka's signature work, getting 60 points (4th) in the 2017 Manga Tashio and has been extensively advertised, which includes a feature in footbalista and the MC appears in the main visual for the Prince Takamado Trophy All Japan Youth (U-18) Football League at Saitama Stadium on 17 December 2017. The genre itself is also of change for the mangaka, since the mangaka's previous works are serialized monthly in Kodansha (as for the genre I didn't read her other more slice and life focused works, which include her newest work about a genius film producer in 2017).
The strengths of this work is that the members of Tokyo Esperion, by extension Aoi are diamonds in the rough where despite their flaws they have unique stregths that everybody else sees a reason why they are on the team (for the MC, he has a wide range vision that enables him to predict the placement of everybody in the field, but initially lacks formal training in defense and having a egoistic attitude) and later he has an unexpected role change in his position. Given what I have read from the plot, it is comparables to Tetsuji Sekiya, Bambino!
Yuugo Kobayashi website (written in Japanese): http://ameblo.jp/yugo-kobayashi0503/
–
Asobi Asobase
Mangaka: Rin Suzukawa
Serialized: Young Animal Densi, Hakusensha in 2015
A surreal gag manga featuring beautiful girls and games! A comedy manga of bishoujo and games that will keep you laughing!
Don't let this innocent looking cover fool you, don't let the initial chapters in English fits your brain into a stereotypical mold (okay, some basic stereotypes of an average Japanese girl remains), don't let thinking that it is a manga about cute girl playing cute thing. When the manga says surreal, it really means making the girls extremely ugly in plotlines such as having the same girl wear Harajuku clothing in a chapter then being forced to wait for her other club members to arrive due to being the only girl to not only pass her test, but also in flying colors.
There's also the initial plot where the club is formed because one wants to learn English, from the Western-looking girl who doesn't know any English at all. Don't expect to learn English from this manga. By the way, it is scheduled to receive an anime adaptation in July 2018 by Lerche.
–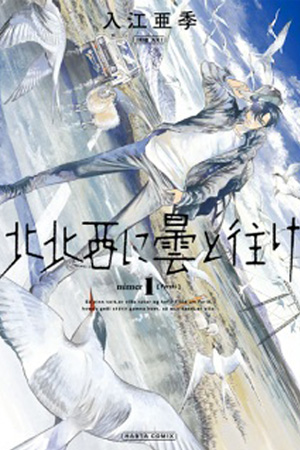 Hokuhokusei ni Kumo to Ike
Mangaka: Arie Aki
Serialized: Harta, Kadokawa on 2016
17-year-old Kei Miyama is a freelance detective working in Iceland. With the disappearance of his brother, aunt, and uncle, he is plunged into a mystery that he must solve at all costs.
Before everything, I utterly loved this volume cover (despite not reading her previous works Arie Aki is an insane volume cover artist). The about 75-degree angle is very original and widens the entire Icelandic landscape, the emotion it invokes are subtly silent despite the seagulls and a lamb flying around surround Miyama, who complements the cold land by doing a composed pose. Strong and very different from what Arie's used to draw her covers.
That said, I'm conflicted with the plot itself despite currently having 10 chapters. The plot is the strongest when the MC focuses on simply being a detective solving mundane mysteries while experiencing the Icelandic culture. The plot is at the weakest when she put in a storyline about his brother who is a suspect of a murder case in Japan, which complicates another storyline about the mysterious Icelandic girl in Chapter 1.
–
Ihotose Box
Mangaka: Miyao Ikumi
Serialized: Evening, Kodansha on 2017
A man stumbles upon a mysterious box in which a town of minuscule people from long ago lives. He plays around with the box and ended up facing unexpected consequences, with the first being losing his childhood friend who he had an unrequited love for another childhood friend.
The volume is kinda like the Attack of Titan, but this titan here has a face of an ordinary young man that opens the box. While peasants went on in their daily lives, there's a girl that appears to be partially aware towards the man, looking at the man' direction and thinking that it is a god.
I choose this because the concept is very unique. Who doesn't want to become a god overseeing and playing around with mini real-life humans, minus the consequence of accidentally receiving a future where your father died unexpectedly? While the manga can be quite wordy and historical, the manga also focuses on the citizens that lived in the box and the people who change the future from messing around with the box. Making it an intriguing read.
–
Toumei Ningen no Hone
Mangaka: Ogino Jun
Serialized: Shonen Jump+, Shueisha on 2017
What do you do when you receive the power of invisibility? Experiment, play pranks and stopped to endure in a broken family.
What if you couldn't stand your father abuse your mother that has been going on for years without anyone helping you? Kill your father using your power.
How would you face the guilt of murdering someone, especially someone that is once close to you? This is the story of a girl who spends a new year in a new neighborhood to rediscover herself before choosing to self-confess
From the cover, I assume the red flower surround the lead is an amaryllis. According to the flower language, it signifies shyness, pride, determination and radiant beauty. Using the language to synthesize with the first chapter, it focuses on the girl being quiet while enduring in a broken household and having invisibility powers. Later to save herself from this situation she becomes determined to kill her father with her own power. The Greek story it's based on also signifies self-sacrifices, like the woman in the Greek tragedy, she sacrificed her innocence in order to receive her desired result, but her eventual bloom has no started yet.
While the initial plot is quite dark, the story is surprisingly heartwarming & refreshing in a way that it doesn't delve on being edgy like any other stories that deal with death (well, most of the time) and discussed with the other 2 female leads that eventually found out that she's the one who killed her father after seeing her as a dear friend. Whether the girl may receive salvation and bloom radiantly, the story is recently finished for people to taste.
–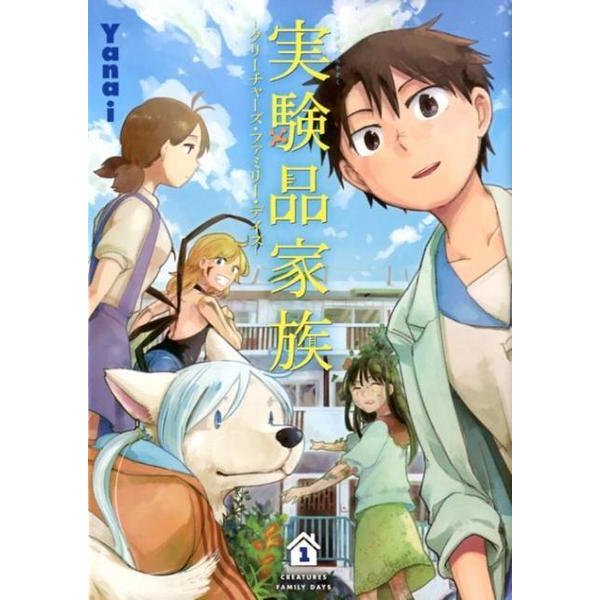 Shiyan Pin JiaTing (Frankenstein Family)
Mangaka: Yanai
Serialized: Suncomics, Animen on 2015
When you parents are arrested for conducting illegal studies, how would the sheltered you and your family cope living in the outside world? Especially when your siblings are genetically modified into animals, plant and a mind reader.
The final and definitely Chinese entry (albeit she's from Hong Kong) since there are quite of lot Chinese mangas that are serialized for consumption (while I don't have a lot of experience towards it, most of them I know of consists of light novel adaptations like Mad Snail's Tales of Demons and Gods, Tang Jia San Shao's Duolo Dalu and many other romance mangas, some even made with live action photos). This manga is immediately very unique compared to the other Chinese manhwa, the characters live in an island that forces them to transport by boat and having to first live by themselves without any consistent guidance until later in the story.